A note from our Executive Director

"I'm going to do what I've always done. I'm going to fight it. We still have many bridges to cross."
That was the brave response of John Lewis, U.S. Congressman representing the 5th district of Georgia, a modern-day civil rights and human rights hero, when faced with a New Year diagnosis of pancreatic cancer. As a grateful nation, let's pray for him and his fight in the days ahead, and let's continue with him to cross the bridges that he risked and dedicated his whole life to build. Read more »
2020 is looking brighter, thanks to you
We are beginning the new year bursting with gratitude for a community of people like you who shared the powerful message, "You Belong" through the Sleep Out and our holiday programs. The 2019 Sleep Out inspired more generosity than ever, resulting in $2,643,600 that will help nearly 2,000 local families stabilize and strengthen all year long. The Holiday Gift Program brought joy to more than 700 families, and a total of 109,335 pounds of food and household items were distributed this holiday season. This is only possible because of you and this community - thank you!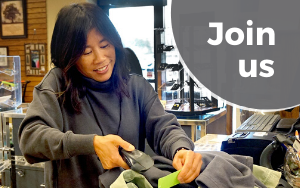 New year, new chances to volunteer
As we welcome a new year, we hope you will join us to make a difference in the lives of our neighbors. Volunteers power our work all year long. Learn more about our work and explore how you can get involved.

Learn more about joining our team »
Join us at Women with Purpose Jan. 28
Thanks to some enthusiastic young women (ages 25-45), the buzz is building around Women with Purpose (WWP) at Interfaith Outreach. Join us at the next gathering on Jan. 28 to connect with other women, learn and give back. Join us in January »

January's Volunteer Spotlight is Cathy Sandberg, a volunteer leader who wears many hats and loves connecting with our community. Meet Cathy »
Wayzata Compass' Ecology of Food and Nutrition class invites you to Food for Everyone on Jan. 13, 5:30-7:30 p.m. at Wayzata High School. Enjoy a free meal from rescued sources, live music and interactive experiences. Optional donations benefit Interfaith Outreach and other local charities. RSVP today »
The Jan. 31, 2020 deadline for our Youth Philanthropist Award is fast approaching! Have you or your student considered applying? Learn how Interfaith recognizes youth »