A note from our Executive Director
Dear friends,

The Sleep Out campaign is focused on the 1 in 5 families that arrived at Interfaith last year for whom a "new normal" was homelessness. An urgent and heartbreaking reality that calls forth the best in us. We want to change that reality. These folks are us. They belong. The first step is an attentive and empathic response from all of us, including our kids. We've created a tool, an empathy activity, that I'm hoping you might share with your kids and extended family and consider making a family Sleep Out gift online. Thanks so much!
Get your Empathy Activity »

Sleep Out update: 62% to goal
The "You Belong" signs that have popped up all over town are reminders that our community has the heart, will and collective power to keep our neighobrs where they belong -- in our community. That power is showing up in the $1,599,597 raised toward our Sleep Out goal of $2,600,000 by Dec. 31! Thank you for helping prevent homelessness for nearly 2,000 local families.
Double your Dollars
A recent match of gifts up to $50,000 has been extended, making today the perfect day to double your impact for local families.

Learn more about the Sleep Out and the impact your donation has on the lives of our neighbors.

Neighborhood Program: services right where people live
At Interfaith Outreach when we talk about the power of community, we mean it in the broadest sense of the word. Everyone has a role in fostering family life and strengthening the fabric of our community. Thanks to on-site Neighborhood Program services, more than 862 families can access resources without the expense of hopping in a car or bus. How Interfaith meets people where they are »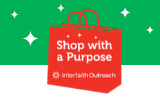 Shop with a Purpose Dec. 20
One day only! Plan your dining, shopping, shipping and pampering at these partner businesses donating to benefit the Sleep Out.

Shop with a Purpose »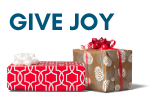 Gift cards needed by Dec. 13
Help brighten the holidays for 182 local seniors, families and kids! Make a financial donation by Dec. 13 (select "Direct my gift to" at the bottom of the form and choose "Holiday Gift Program").
Give joy this season »
The Sleep Out prevents homelessness and reminds every member of our community, "You Belong." Thank you for sharing this message by planting yard signs all over town and taking photos with friends, family and co-workers to share the message far and wide. "You Belong" gains momentum »
With just weeks left in 2019, there are a number of innovative giving strategies to explore that benefit both you and Interfaith Outreach! Check out these options to find the transformational asset gift that's right for you and your family. Discover life-changing ways to give »
Looking for a thoughtful, zero-waste gift that will fit your loved one perfectly? A tribute gift of any size to the Sleep Out makes a local impact your special someone will appreciate. Honor a loved one with a gift to the Sleep Out. Give in honor of someone for the holidays »